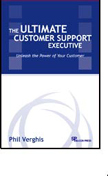 The Ultimate Customer Support Executive
by Phil Verghis, www.verghisgroup.com
ISBN 0-929306-34-1
2006
225 pages, Hardcover
$49.95 (US Dollars)
Author Bios: Verghis
Why is The Ultimate Customer Support Executive a timely and important book?
If customer support is so critical, why are complaints about customer support at an all-time high? If people buy on price but stay because of service, why arent companies listening to their own customer support teams, the people who know their customers best? How does this flawed approach impact the bottom line?
In his eye-opening new book, The Ultimate Customer Support Executive, global support expert Phil Verghis unveils the secrets of gettingand keepingcustomers for life in this hyper-competitive world.
By successfully merging people, processes and technology, Verghis demonstrates how to unleash the power of the customer to propel your company to new levels of successand turbo-charge your career at the same time.
In today's interconnected world, few companies have thought through the implications of providing global support in a holistic way. Verghis, a savvy practitioner and consultant with clients around the world, helps you realize that its much more than a crucial challenge. Its an incredible opportunity.
The Ultimate Customer Support Executive shows you how to:
Unleash the power of your customer within your organization
Make customer support more strategic to your business
Position yourself and your organization for success by enlisting the power of the customer
Evaluate best practices in people, processes and technologies
Earn respect from internal colleagues
How to deal with global customers and manage support teams scattered across the globe
Think about, and prepare for, outsourcing and offshoring discussions
In addition to high-level implementation strategies, the book includes provocative thinking about the future of technical support and global support philosophies in the 21st century.
Anyone with responsibility for dealing with customers, from sales to support executives to CEOs, will appreciate this clear blueprint for unleashing the power of the customer.
Who will be interested in the book?
Anyone with responsibility for customer support and an interest in enhancing customer loyalty. This includes:
Senior-level executives responsible for organization strategy and tasked with contributing significant gains in shareholder value.
Executives and managers responsible for providing customer support.
Executives and managers who depend on customer support.
Management consulting, technology consulting, and strategy firms.
R&D, Engineering, Sales (domestic and international), Marketing, Business Development, Finance, Legal, Quality Assurance, CIOs, Internal Help Desk managers, Non-profit support, Resellers, Vendors in the customer support space
Professors and students in graduate and undergraduate business programs.
What will you learn from reading the book?
Down-to-earth, practical, hands-on resource written for customer support executives (and those who depend on them) who want to take their performance to the next level.
The Ultimate Customer Support Executive will show you how to:
Make customer support more strategic to your business.
Position yourself and your organization for success by enlisting the power of the customer.
Understand the various process frameworks of successful customer support, and see which ones make sense for you
Look at different toolsets available to implement your vision
Earn and then demand respect from your internal colleagues
How to deal with global customers and distributed, global support teams
Think about, and prepare for, offshoring discussions
In addition to high-level implementation strategies, the book includes provocative thinking around:
Global support philosophies in the 21st century
The future of technical support
Chapters:
Leadership
Who are you?
Customers
Common Customer Support Myths
People
Process
Technology
Global Support
Offshoring
Being Recognized
Future
Final Thoughts