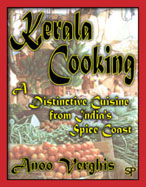 Kerala Cooking: A Distinctive Cuisine from India's Spice Coast
by Anoo Verghis
ISBN 9780929306360
May 2007
232 pages, Paperback
$39.95 (US Dollars)
Author Bios: Anoo
Summary Reviews
Try some recipes
Kerala, in southwest India, has been a major spice junction for hundreds of years, and is particularly famous for its pepper and cardamom. The essence of Kerala cooking is in the successful blend of aromatic spices with fresh, tropical fruits and vegetables found in this lush, monsoon-swept region. Cardamom, cinnamon, peppercorns, ginger, and turmeric perfume and add subtle layers to easy-to-prepare rice, fish, meat, and lentil dishes.
Kerala Cooking presents an elegantly simple cuisine in contemporary combinations with its delicious repertoire of vegetable and lentil dishes, boldly spiced meat and poultry, fish and shellfish curries with coconut sauces, and fragrant rice dishes.
Separate sections on rice, vegetables, fish, meat, lentils, snacks, and desserts present familiar ingredients used in new ways, with dishes like Stir-fried Spinach, Fried Okra, Rice with Vegetables, Chicken Curry, Mussels in Spicy Sauce, and Pigeon Peas with Tomatoes. Kerala Cooking also introduces less-familiar Kerala combinations such as Pumpkin with Cowpeas, Fish Steamed in Banana Leaves, Lentil Patties, and a selection of rice preparations from Lime Rice to Rice Pudding.
Some Helpful Features
Nutrition information.
A list of utensils.
A preparation section.
Numbered cooking steps.
Preparation & cooking times.