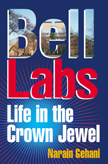 Bell Labs: Life in the Crown Jewel
by Narain Gehani
ISBN 0-929306-27-9
2003
269 pages, Hardcover
$39.95 (US Dollars)
Author Bios: Gehani
Table of Contents:
I Have A Job For Life!
The Crown Jewel
Life At Murray Hill
Looking For Dung But Finding Gold
Do We Work For The Same Company?
What Are You Doing For Us?
Bell Labs Goes West
Maps On Us
Most Fantastic Place!