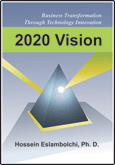 2020 Vision: Business Transformation Through Technology Innovation
by Hossein Eslambolchi
ISBN 0-929306-39-2
2006
180 pages, Paperback
$24.95 (US Dollars)
Author Bios: Elsambolchi
This book examines in depth how new and emerging technologies such as Services over IP (Internet Protocol), radio frequency identification, distributed computing, sensor networks, and grid computing can be applied to help todays new model CIO drive results to the top and bottom lines of his or her enterprise -- and to ensure the success of the enterprise in the 21st century.
In essence, it offers a technology vision for 2020.
Why a 15-year technology vision? First, with deep thought and with some degree of accuracy, a vision for the year 2020 is possible to articulate. Second, if I go back to 1990, 15 years before writing this book, cellular technology was in its infancy; PCs were just starting to penetrate deeply into the home; hardly anyone had heard of the Internet, and almost no one used instant messaging or email. Yet, all of those technologies were in early deployment or on the horizon, and were known to the technical community. The interconnection, the networking, of these technologies and many new technologies will be the driving technological force over the next 15 years; it is this convergence that motivated me to write this book. I want to provide a technological road map and imagine a world that moves us from 2005 to 2020, describing what the future will look like and the technologies that will get us there.
As we explore convergence, we will see how these technologies layer, one on top of the other, to bring us to the converged world, starting from current, real-life technologies, and building to the future. Finally, we will look at how CIOs can work to make our converged future desirable and ethically responsible.
I want to inspire you to embark on your own transformations. I want you to think deeply and strategically about convergence, about its impact on your business and the world around you. I want to give you a context and a way to frame change, so it seems less daunting. I want you to see whats coming so you can adapt to these accelerating changes by adding intelligence to your network technologies and making them responsive to the call of new generations. If your company becomes successful through the application of these ideas, not only will you and your enterprise benefit but, and perhaps evenly more importantly, so will consumers and society as a whole.
In the end, this book is about the future, how to shape it, and how it will affect business. In addition, I want to offer you something else, as well. I want to leverage my experience as a technologist and as an executive to help you understand more than whats coming next. I want you to know how we're going to get there, and how you can position yourself and your company smartly along the way.
Being a CIO is one of the toughest jobs in corporate America today. Indeed, the average tenure of a Fortune 500 CIO is less than two years.
Why? Because the CIO must place risky, big-dollar technology bets on an unknowable future. Because the CIO has to understand and work with unproven technology that often takes much longer to integrate and install than originally forecast. And because the CIOs technology choices must cut costs and generate revenue simultaneously.
All thisaligning technology to meet the business demands of cost-containment, customer satisfaction, and compliance, as well as coping with the explosion of new products and servicesmust take place in near real-time. And the environment is tough, too. Markets are disappearing, combining, cannibalizing. Your workforce needs to be retrained, redistributed, or disbanded altogether. Factories and plants are closing, and jobs are disappearing. Its overwhelming, sometimes even a little paralyzing
Clearly its a complex, stressful, and challenging job. And it has become more complex, stressful, and challenging in recent years because of the even greater demands that are being placed on the CIO.
The need to retain and gain market share today exceeds any one persons scope, no matter how talented they are. And enterprises across all industries are not simply tweaking their business models, theyre being forced to engage in radical top-to-bottom reengineering, implying that IT is central to business transformation. It also means that CIOs and the networking infrastructures they run are central to meeting the challenge of ongoing transformation.
In the end, this book has been written for business people, to show them what technologies are likely to be relevant in the next 15 years and how to drive them into a companys business processes to create a better future.
Chapters: