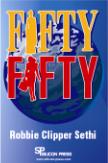 Fifty-Fifty
by Robbie Clipper Sethi
ISBN 0-929306-24-4
2003
219 pages, Hardcover
$24.95 (US Dollars)
Author Bios: Sethi
Summary Reviews
One of the best multicultural sagas to come along in a long while! -- Kirkus Reviews, November 1, 2002
Like the linked collections and novels-in-stories of Junot Diaz, Louise Erdrich, and Julia Alvarez, like Faulkner's classics The Sound and the Fury and As I Lay Dying, Robbie Clipper Sethi's Fifty-Fifty tells the story of a family and their culture from a variety of points of view in their own individual voices.
Gulab Kaur Gill is not the only member of this Punjabi Sikh family to live through "countless" lives, without ever reincarnating. After the Partition of India in 1947, the Gills start again in New Delhi. As a place where her three grown daughters and son can live together and prosper, Gulab looks to the Middle East, "where so many of our boys had gone to make money off the rich Arabs." But politics interferes again, and her daughters fly like dandelion seeds to Africa and England. She sends her son to America, where "No one gets kicked out."
One by one, three generations tell their stories of desire, loss, and hope. Granddaughter Rosa begins with her assimilation to the multi-culture of a California high school. She introduces us to family, then lets her grandmother recount the family's odyssey from east to west. Like global bungee jumpers, Rosa's cousins and Gulab's grandchildren bounce back and forth between the east and west, giving birth, going wrong, struggling with American values, falling in love, and finding-or losing-themselves.
Gulab's expectations run throughout these testimonials, obsessing her daughters and burdening her son as he works to realize the American Dream. They may be read as chapters of a continuous narrative or as individual stories-a global album of this family's progress from loss to gain.
Globalization and affordable communications and travel have shrunk our world in the twenty-first century. Fifty-Fifty brings this world closer, making enjoyable and familiar what was once exotic and remote. Robbie Clipper Sethi reveals the hearts and souls beneath the surface of these new American faces increasingly visible on the streets of America, in its schools, and in the workplace. She will make you laugh. And think. And cry.